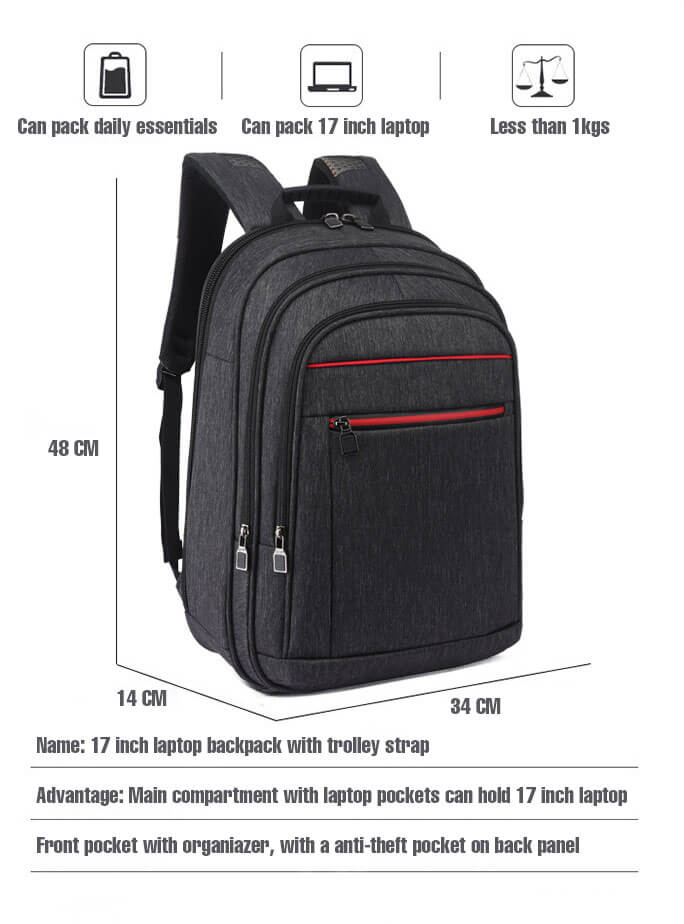 Introducing our 17 inch laptop backpack with a trolley strap – the ultimate companion for the modern traveler. With years of experience in crafting top-quality products, we bring you a backpack that not only meets your storage needs but also prioritizes your comfort and security.
Featuring two spacious compartments, this backpack provides ample room to store your 17-inch laptop, notebooks, chargers, and other essentials. The well-thought-out design includes a front pocket and a front zipper pocket, offering convenient access to your frequently used items. Need a secure place for your valuables? We've got you covered with a back anti-theft pocket, ensuring that your belongings stay safe and close to you.
The trolley strap on the back panel takes convenience to a whole new level. Whether you're navigating through bustling airports or maneuvering busy city streets, simply slide your backpack onto your luggage and effortlessly glide towards your destination. Bid goodbye to the hassle of carrying multiple bags!
We understand the importance of comfort during long commutes or travel adventures. That's why our backpack is equipped with a comfortable and breathable sandwich pad on the back. Say goodbye to sweaty backs and discomfort – our backpack is designed to keep you cool and at ease throughout the day.
Measuring 48*14*34cm, this backpack offers a generous size without compromising on style. Its sleek and versatile design makes it perfect for both professional and casual settings. Whether you're heading to the office, attending classes, or embarking on a
adventure, our 17 inch laptop backpack is the reliable choice that will complement your lifestyle perfectly.
Crafted with high-quality materials, our backpack is built to last. The durable fabric and sturdy zippers ensure that your belongings are kept secure at all times. No more worrying about wear and tear or accidental spills – our backpack is designed to withstand the rigors of daily use.
Not only does our backpack offer ample storage space and durability, but it also boasts a range of practical features. The adjustable padded shoulder straps provide a customizable fit, ensuring maximum comfort for long hours of wear. You'll also find a convenient top handle, allowing you to easily grab and go when time is of the essence.
But that's not all – we've also paid attention to the little details that enhance your experience. The backpack's interior is lined with a soft fabric to prevent scratches on your laptop or other delicate items. The ergonomic design of the shoulder straps evenly distributes weight, reducing strain on your shoulders and back.